Gartner Releases First Ever 'Magic Quadrant' For Process Mining
As technology enabling organizations to automate business processes proliferates, adjacent tech that provides greater visibility into the processes themselves—process mining—has gained momentum and is being integrated into the software offerings of a growing number of providers.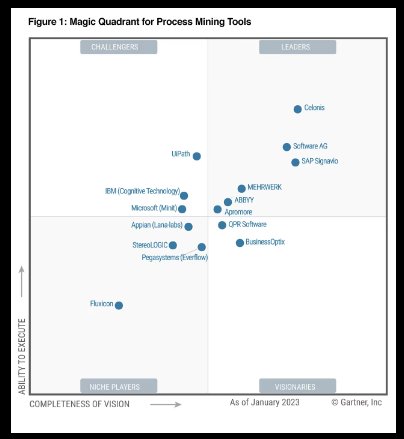 Gartner, the Stamford, Conn.-based IT consultancy that develops sector and vendor assessments called "Magic Quadrants," has turned its attention toward the burgeoning software category.
For the first time, it has released a Magic Quadrant for process mining tools that named ABBYY, Apromore, Celonis, MEHRWERK, SAP Signavio and Software AG in the "Leaders" category.
Magic Quadrants use a proprietary analysis to place industry vendors in a graph that plots "ability to execute" on one axis and "completeness of vision" on the other. Companies that exhibit a high degree of both (those in the upper right "quadrant") are identified by Gartner as "leaders" in the space. The firm says it is focused on the market as it will evolve into the future, not as it is today.
In its research, Gartner emphasized the growing influence of process mining, noting that by 2025, 80 percent of organizations driven by the expectations of cost reduction and automation-derived enhanced process efficiency will embed process mining capabilities in at least 10% of their business operations.
Overall, Gartner evaluated 15 process mining technology providers in the report including Appian (through its Lana-labs subsidiary), BusinessOptix, Fluxicon, IBM (Cognitive Technology), Microsoft (Minit), Pegasystems (Everflow), QPR Software, StereoLOGIC and UiPath.
Source: RPAToday
What's Your Reaction?