RPA
What is RPA, Why its required and which tool is in Trend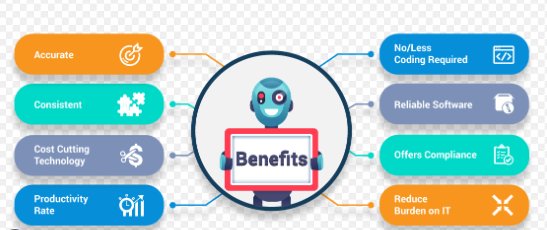 What is RPA
Robotic Process Automation (RPA) is software technology that's easy for anyone to use to automate digital tasks.
With RPA, software users create software robots , or "bots", that can learn, mimic and then execute rules-based business processes. RPA automation enable users to create bots by observing human digital actions . Show your bots what to do, then let them do the work. Robotic Process Automation software bots can interact with any application or system in the same way people do—except that RPA bots can operate around the clock, nonstop, much faster and with 100% reliability and precision.
Why RPA required
Accelerated transformation

-

Among global executives, 63% count RPA is a major component in digital transformation.(

Pegasystems survey)
Which tool is in Trend
leader

Major Contenders

Aspirants

1. UiPath

2. Automation Anywhere

3. Microsoft

4. SS&C Blue Prism

5. NICE

5. Laiye

6. Pega

7. IBM

8. SAP

9. Cyclone Robotics

10. Appian

11. Nintendo

12. JIFFY.ai

13. OpenBots

14. WorkFusion

15. Nividous

16. Datamatics

17. AutomationEdge

18. Aiwozo

19. ElectroNeek

20. qBotica QRuize

21. HyperCap

22. SAIO
What's Your Reaction?