Center of Excellence(CoE) in RPA
A Center of Excellence (CoE) is essentially the way to embed RPA deeply and effectively into the organization,and to redistribute accumulated knowledge and resources across future deployments.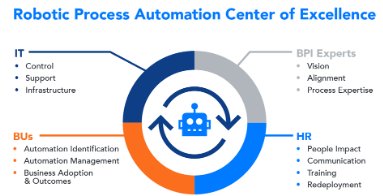 What is an RPA Center of Excellence?
A CoE is a way to embed and implement RPA deeply and effectively into the organization. It enables organizations to gather, assess, and manage the necessary knowledge and capabilities needed to effectively implement RPA. By bringing together people from different disciplines, a CoE can combine learning and oversight around a specific area, driving the organizations to align multiple disciplines together.
The CoE is focused on providing training, best practices, and resources for the organization. It standardizes the rules and guidelines that govern development, thus ensuring that all projects are a driver of organizational outcomes.
Why implement an RPA Center of Excellence?
Many organizations are realizing that implementing RPA at scale in silos is impossible. An RPA CoE brings people from various disciplines to share knowledge, collaborate, and develop automation in a more effective and streamlined manner. The CoE is designed to drive innovation, improvement, and collaboration - it enables teams to measure, experiment, and accelerate performance.
The RPA CoE is meant to drive all the functionalities of an RPA initiative to be successful. The model should include:
Organization: Considering the CoE within the enterprise context will ensure that RPA properly implemented throughout the organization. The CoE will dictate internal and external roles and responsibilities that will support the RPA initiative.
Governance: This establishes clear RPA standards, procedures, and policies along with governing bodies, escalation paths, and segregation of duties. It ensures that compliance regulation, security requirements, and regulatory standards are met. It will decide task prioritization and the level of access for different teams and employees.
Technology: It's up to the RPA CoE to choose the right automation tools for the appropriate tasks and take care of the maintenance of them. The CoE acts as the architect of the robotic operating environment. It will support RPA integration into critical areas such as IT Service Management and Configuration Management Database.
Processes: The RPA CoE is in charge of evaluating automation opportunities, deploying RPA into suitable environments that are stable, scalable, and secure.
Operations: If the implementation of RPA is successful, there are some structural changes that will have to occur. These changes which can include changing job descriptions of human roles and overall operational change management is managed by the RPA CoE.
To be continued...
Source - Blueprint
What's Your Reaction?